Most would instinctively describe cinema as a visual art-form, but one look at the history of everyone's favourite (mostly) English-language cinema celeb-fest, the Oscars, shows that awards have been given for various aspects of a film's audio since the third award ceremony in 1930 (Best Sound Recording). Whilst it's not uncommon to have discussions about favourite soundtracks and movie themes, if A Quiet Place doesn't cast sound design into the public consciousness nothing will. From the sound of unseen foes approaching (even more effective when implemented as a wandering "sound element", more on this later), heartbeats racing as the tension skyrockets, to the piercing feedback of a young girl's cochlear implant, sound plays a crucial role in the generation of tension. Marco Beltrami's soundtrack's not half bad either, the veteran horror scorer at it again with a mix of dissonant ambient tracks implemented in moments of action or threat and decidedly Jóhann Jóhannsson-esque minimalist beauties to lift the more sentimental moments to a higher plane. I actually stayed for the credits just to note the composer, always a sure sign of a great soundtrack.
I am an audiophile. I have always been obsessed with music, radio, and sounds natural and not alike: thunderstorms, bike tyres on loose gravel, briefcase clasps closing, the sound of oars skimming the water's surface (the best thing about rowing)… So it may surprise some who know me well that it wasn't actually the sound effects or the music that most impressed me: it was the silence. "If they hear you, they hunt you.": one glance at the movie's tagline tells us we're in for a lot of holding our breath and tip-toeing around. It's a simple yet effective strategy, and the suspense created by noticing anything that could create or cause the slightest noise – or even not so slight, such as an upturned nail on the stairs or Evelyn's (Emily Blunt) baby bump – is so intense that I found myself almost longing to just get it over and done with. Almost. In reality, the only moment of relief permitted by the film is a simple yell shared by father and son, protected by a barrier of noise provided by the deafening roar of a waterfall.
Going beyond elective silence, Evelyn and Lee's (John Krasinski) young daughter Regan (like Millicent Simmonds who played her) is deaf, in itself not an entirely unique concept – a character's deafness was also used to wonderful effect in 2016's Hush (here I feel obliged to mention that the writing of A Quiet Place was already underway in 2013) – but a young girl and her family's struggle to come to terms with her disability would be difficult enough without the imminent threat of death at the claws of an alien predator (or "Death Angels" as they are nicknamed). The family's ability to communicate non-verbally, undoubtedly initially for Regan's benefit, is what allowed them to adapt and survive in the soundless world that the majority of humankind had failed to adapt to (civilisation as we know it all but wiped out), and – without giving too much away – the unique challenges of facing such a condition ultimately provide the Abbotts with the knowledge necessary to have a fighting chance at survival again towards the film's close. Perhaps I, having grown up with a close friend who himself has a cochlear implant, am particularly attune to such themes, but Regan's reaction to another of Lee's failed attempt to fix another aid and provide some degree of hearing – fragile, restrained, and utterly devastating – left me in tears, and is unquestionably my favourite scene in the film. The maturity of such restraint in the face of pain, both physical and emotional, is what really makes this film so special (testament to the talents of Blunt and Millicent in particular, without whose measured and delicate performances such emotional impact would have been lost).
More than just a scary concept with a lot of jump scares, A Quiet Place is about a family's ability to adapt and overcome. Here, we leave behind the all too familiar "every man for himself" survival concept in favour of a family's altruism, and there is no limit to how far they will go to save each other. It's a story of loss and sacrifice, and of acceptance. If I had to describe A Quiet Place in a word, it would not be "fear", but "love".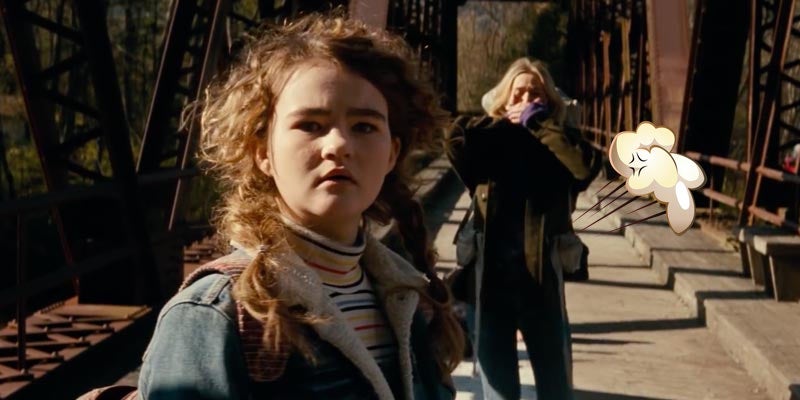 PS: I normally wouldn't talk too much about where I watched a film, but in this instance I feel I must say a few words before I go, as it enhanced the experience so much. A Quiet Place was the first film I have watched in a screen fitted with Dolby's "Atmos", showcased spectacularly by this film in which sound is so important. I'm not very well informed on the particulars of how it works, but sound elements move in a three dimensional space rather than the conventional "channels" used previously, giving a move specific sense of location (including a sense of "height").
Not directly relevant to the film itself but definitely adding to my enjoyment of the visit (more specifically my first to an Odeon "Luxe" cinema), was the intense comfort of the auditorium. The cinema was absolutely packed – usually something that can feel quite claustrophobic, uncomfortable, and ultimately distracting – but everything about the room's design leaves only one thing to give your attention to: the film (and so I did – only occasionally snapping back to reality at the odd shriek from one particularly timorous member of the audience seated further along the row to my right). All the seats in the auditorium were incredibly comfortable hand-stitched leather recliners with so much leg room that even when fully reclined I, at 6'1", had enough room for a grown man to walk easily between my outstretched legs and the seat in front, minimising disruptions and eliminating distracting bumps in the back from the knees of the people sitting behind you. Each seat has its own private table for drinks and snacks, and two rather large armrests (goodbye awkward elbow bumping) which is both more comfortable and the added distance seems to make talking to the person next to you – a pet peeve of mine – more difficult or just less appealing, as nobody seemed to be doing it. Though on second thoughts the silence of the crowd (I have rarely seen a room so full so quiet) may have been equally to do with the quality of the film…